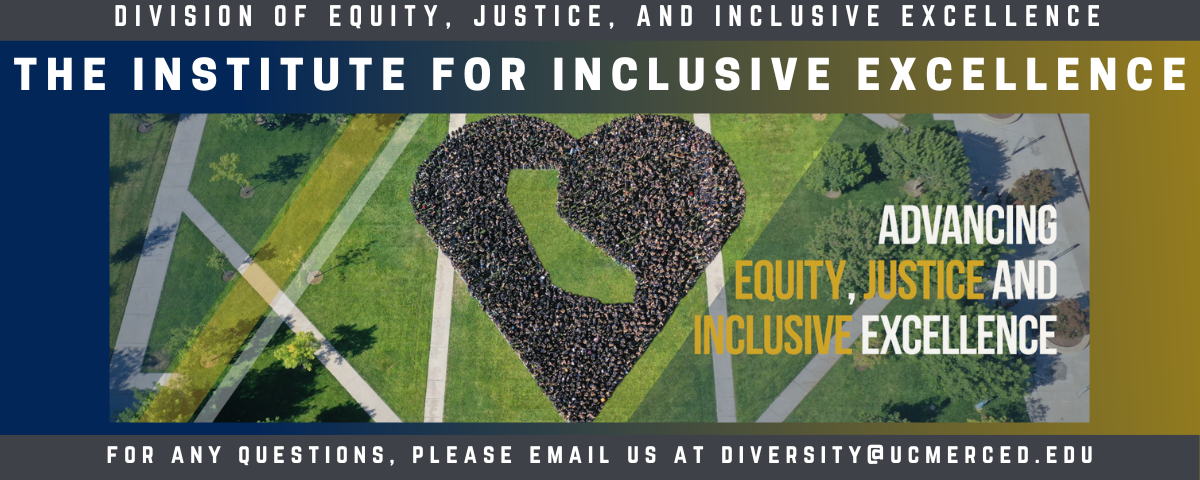 The Division of Equity, Justice, and Inclusive Excellence (EJIE) is happy to announce that applications for the second annual Institute for Inclusive Excellence are now open. IIE is a multi-session, educational and skills-building experience for UC Merced faculty and staff that focuses on equity, justice, and inclusive excellence.
Five modules are planned across the 2023-24 academic year:
| | |
| --- | --- |
| Underrepresentation and anti-racism | Dates and times TBD |
| Consequences of underrepresentation | Dates and times TBD |
| Equity-minded interventions, individual and collective levels | Dates and times TBD |
| Changing systems and accountability | Dates and times TBD |
| Campus projects | Dates and times TBD |
In recognition of participants' effort and time commitment, EJIE will provideeach participant who completes the program with:
A $1,500 allowance for professional development in the area of equity andinclusion
A personal iPad
The possibility to secure up to $5,000 for an EJIE-related project, if selectedfor implementation in the 2024-2025 academic year.
Application process:
Please submit your CV/resume and a one-page, single-spaced document that answers these questions:
Why are you interested in participating in this opportunity?
What EJIE-related work you have done in the past?
How will your participation in IIE benefit you and your current positionor work setting?
To be considered, please complete the application below by [DEADLINE TBD].